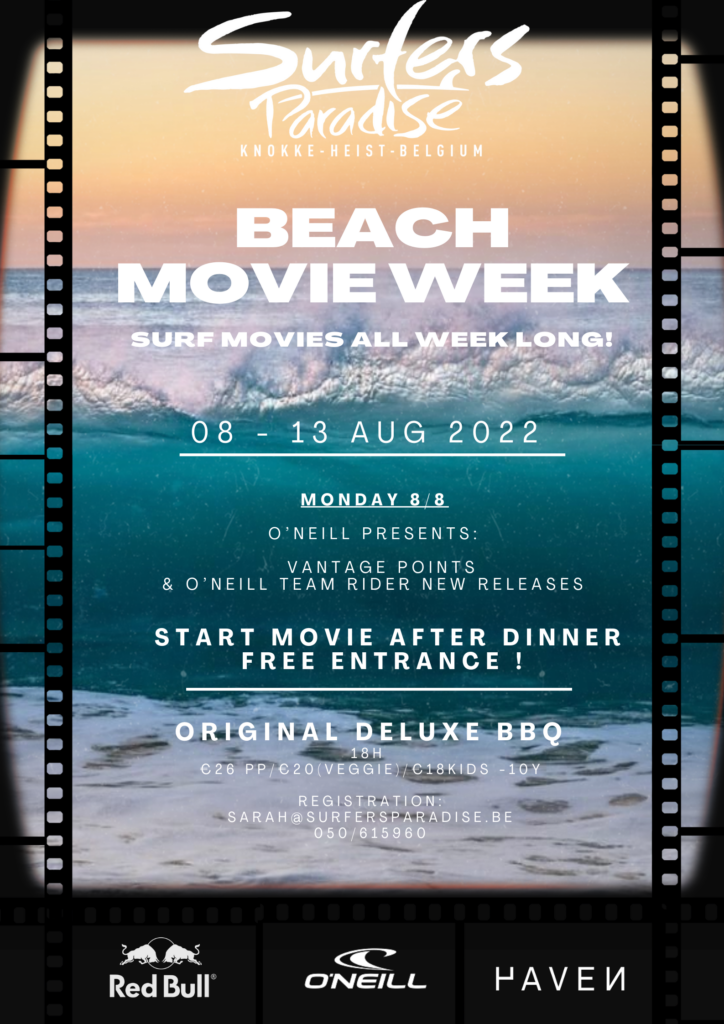 Knokke-Heist now also gets a own Surf-Film Festival!
The seaside town of Knokke-Heist has had something to do with water sports, surfing and all that it entails for decades...

With some 5 water sports clubs, the former Beach Boys, the international windsurfing festival, the world championships windsurfing Juniors, by kitesurfing, the very first Belgian championships golfsurfing, the O'Neill Surfacademy and Surfcamps, the Surf's UP exhibition and Surftribe photo exhibition in Cultureel Centrum Scharpoord, and very recently the building of a wavepool R&D center....
Beach movie week at Surfers Paradise
Surfers Paradise organises from Monday 8 August to Saturday 13 August its very first beach movie week with a surf movie on the programme every evening at 9 pm. Admission is free and the films are shown on a 12 m2 screen. With your feet in the sand, a beach chair and a drink in your hand, you will enjoy yourself, because the programme is one to be proud of:
Monday 8/8: O'Neill presents "Vantage Points" + BBQ Night 
 Tuesday 9/8: O'Neill presents "Crane Brain" + Paëlla & Pizza Night 
 Wednesday 10/08: "The Endless Summer" + BBQ Night 
 Thursday 11/08: Red Bull presents "Paradigm lost" & "Coldwater Journal" + BBQ Night
 Friday 12/08: Red Bull presents "The longest wave" + Paëlla & Pizza Night 
 Saturday 13/08: Haven presents "The Yin & Yang of Gerry Lopez" + BBQ Surf & Turf Night 
Frank Vanleenhove: "This is an idea that I have been running around with for 2 years, but due to corona I had not yet realised it. And when I have something in my head...
Now that it is here, I am very proud that we can achieve this, we are very grateful to the City Council of Knokke-Heist. All our attendees will return home with an enormous positive surfing vibe because every night is really worth it.
They are all finger-licking cult surf and watersports films, films that have gone around the world and are described as classics in their genre.
Hopefully the weather will be good, otherwise it will be under an umbrella. The screen is waterproof and movable, so we can adapt a little to the turnout. The terrace of Surfers Paradise can already be covered, but I see it mainly as a windless warm and dry evening, with our beautiful sunset, to then watch all the surfing greats on the white screen.
Thanks also to O'Neill, Red bull and Haven for their input, because I wanted to be able to offer the film festival for free and hope that it will inspire many young people. The fims are of course suitable for all ages.
 "The Endless Summer" is the oldie of the week. An American documentary from 1966 directed by Bruce Brown, the world's first and most famous surf director. He followed professional surfers Mike Hynson and Robert August on a trip around the world in search of the best surf spot. Robert August aka "Wingnut" and a team of professional surfers were guests at Surfers Paradise for the O'Neill Surfacademy for 10 years, each time teaching about 300 young surfers for a week. That generation now lives all over Belgium and got the surfing bug for life during one of those years.
The Red Bull evenings will, of course, be no less spectacular.
Paradigm Lost is a film that follows the world's most complete waterman and Red Bull athlete Kai Lenny to the farthest corners of the globe. The most spectacular big wave surfing, kitesurfing, windsurfing, and stand up paddleboarding footage will leave everyone stunned.
In Cold Water Journal, surfer and filmmaker Ben Weiland takes the viewer to the most extreme surf spots in every corner of the planet in search of perfect waves and adventure.
The Longest wave then, is a film about the life of Robby Naish, no less than 24 times world champion in various windsurfing disciplines and pioneer big wave hunter. I know Robby personally, he already came a few times to Knokke-Heist where we went windsurfing together and in Hawaii where I went to see him. This film of film maker Joe Berlinger was nominated by an Oscar.
Finally, on the last night, Haven surfshop chose an undisputed winner: the Ying and Yang of Gerry Lopez. Gerry (73) is a purebred Hawaiian and has starred in just about every surf film that has hit theaters, including those where James Bond needed surfers. His nickname is Mr Pipeline, one of the most fearsome and legendary spots on the island of Oahu. He specially designed the lightning bolt surfboard to surf there, one of which can be seen at Surfers Paradise.
It will be a week to look forward to incredibly and who knows, maybe we will have an annual surf film festival, because what could be better than watching a film under the stars?
Beachmovies @ Surfers Paradise from 8 to 13 August, free admission and everyone welcome. Possibility for BBQ at 18h before the movie, reservations sarah@surfersparadise.be