Legendary & unforgettable









BOOKING FOR CAMPS 2022 is possible from Wednesday 1 December 2021!
Here, wave surfing takes centre stage. You can also try other water and beach sports such as Powerkiting, Rafting, Sea Kayaking, SUP, etc.!
Every week in July and August, external school from 7 - 11 years or 12 - 18 years or internal school 14 - 18 years.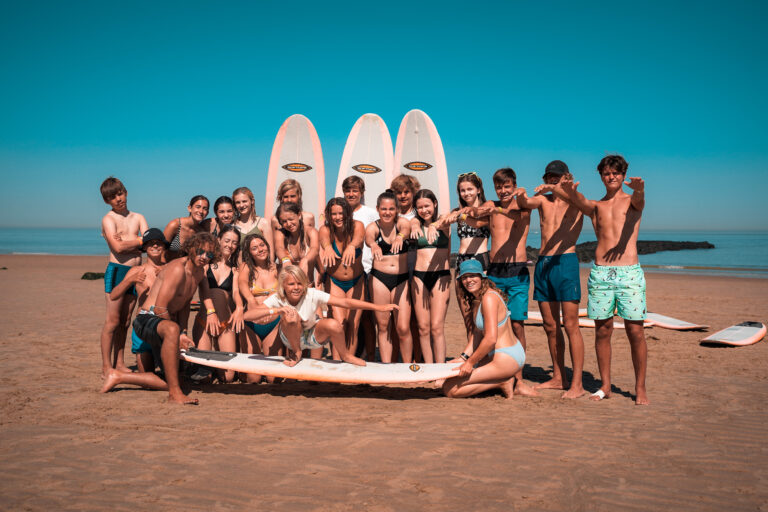 Every weekend in July and August from Saturday 10am to Sunday 5pm, Surfers Paradise is exclusive and only for grommets!
Every weekend in July and August - boarding school for grommets 10 - 13 years
Combine the best of kitesurfing and foiling in a unique course!
"The first foilstage in Belgium!
Every week in the Easter holidays, July & August. Please note: not a day camp but an on-call hour-long course. 15 - 18 years old
Experience a unique Easter camp at the Belgian coast.
There is a programme for every type of weather. Lunch, all water sports equipment, wetsuits & skates are included!
Every week in the Easter holidays 10-16 years
Lakeside Paradise Camps
We also offer camps in our second paradise, located in Duinenwater. You can attend these water sports camps from the age of 7. > more info
Legendary O'Neill camps at Surfers Paradise!
An O'Neill Surfcamp at Surfers Paradise will stay with you, change your life and make everyone an enthusiastic water sportsman, happy and full of energy!
Sport and enjoyment amidst sea, sun and beach, with a handful of friends who share the same great feeling... under safe guidance in a super setting on one of the most beautiful stretches of beach along our Belgian coast and this since 1997!
A phenomenon and a concept
Surfers Paradise was the first club along the Belgian coast to start up the genuine O'Neill Surfcamps. These quickly grew into a phenomenon and a concept that keeps many young people coming back year after year. The qualified instructors are also permanent ambassadors who in many cases continue to guide the surf campers in an enthusiastic and safe manner right up to their professional careers.
"Passion", that's what it's all about, because all the instructors are real "water people" with a passion for everything that has to do with surfing and water sports, and they are only too happy to pass this passion on to the eager young people who come to Surfers Paradise to experience unforgettable moments....
Extensive accommodation and fun activities!
Surfers Paradise has a very extensive accommodation where everyone, weather or no weather, will find something to his liking. A unique Californian clubhouse with beach bar and large cosy beach terrace, the "boardriders club" upstairs in the clubhouse with roof terrace to chill out during the afternoon break, the Sunset Lounge with sunset bar and Hotspring Jacuzzi and hammocks, hot and cold showers, cloakrooms, free internet, giant trampoline, slackline ...
In addition, everyone is provided with top equipment that is renewed every year. All activities are closely monitored by our instructors.
Bravo to Frank & team for this chouette ambiance and top-notch organisation!
Premier internship of Louison at surfers: he has adored and we have been impressed by the quality and professionalism of the organisation.
Mille mercis à tous 🙂
Thanks!
Célestin had a very nice week with you!
Great camp! I'll be back next year. Thanks to all the team (Adri, Hugues, Bo, Charona and the others).
Great camps
Nice concept for the interns
Nice monitors
Despite the cold wet weather, Louise had a top camp! She will definitely be back in August!
A big compliment for the smooth organisation and good supervision. Jana had a top week!
The kids were super enthusiastic!
Thanks to Surfers Paradise and the monitors for giving them another TOP week!
MANY MANY THANKS to all the team !
My 2 boys were very very happy to ba at this camp !!!!
Well done!
great week
great atmosphere
Can't wait to join in August!
THANK YOU AGAIN
Fantastic organisation, good crew, good programme, nice to see the youth having a good time!
Thank you in advance
Serge
Committed monitors, good lessons, taking into account that kids are in the right group,... thumbs up for the whole organisation
It was our daughter's first Belgian camp (we live abroad) and next year she wants at least 2 weeks 🙂
Super fun and great experience. Great monitors and good atmosphere in beautiful surroundings.
Top camp in a top location! The perfect mix of a fantastic range of activities and a relaxed atmosphere. Daughter was even more enthusiastic this year than last year!
Silas thought the windsurfing camp was very nice and instructive. It is great that it was such a small group. This way the learning opportunities are twice as big. Silas was also very positive about the coaching. Thank you very much to the whole team.
Noah had the time of his life last summer and wanted to come back this year. Result: another unforgettable week.
Guess I'll be keeping an eye out for registrations for summer 2021! Thanks Surfers Paradise !!!!
For Mathias it was his first camp and he has been bitten by the microbe! Parents and grandparents are also very enthusiastic.
This could not be otherwise with Frank and the highly motivated and experienced monitors. Everyone is wonderfully friendly and helpful.
Tasty snacks and barbecue.
The nice atmosphere, the beautiful surroundings and the furnishings complete the picture.
Congratulations to the entire team.
Both daughters and their friends had a great week!
Thank you very much!
I've been coming to you since I was little, and I always love it at Surfers and Lakeside... You make my summer.
Dear Surfers Paradise Team, Our son Bob has been "boarding" with you. He thought it was GREAT !!!! in every way. Congratulations to all of you. He will be back next year.
Our sons loved it! Next year they definitely want to surf more, so the introduction to surfing was more than successful. Thanks!
I would like to congratulate you on the effort and the lovely week that my 3 grandchildren spent at the surfers' camp! Margaux did a perfect job and Cédric, Alec and Adrien are very excited to come back next year... Good luck!
We would like to thank you again for the good care and the follow-up. Baziel really enjoyed his week at sea. You are doing a great job with these young guests. We will definitely come and have another barbecue this summer. Thanks a lot! Piet & Brenda