General Terms and Conditions
No wind, no waves, no fun? Vergeet het!
Sinds enkele jaren is er de mogelijkheid om op platte windloze dagen te efoilen op Surfers Paradise.
Na het nemen van een lesje onder deskundige begeleiding kunnen de efoils ook gehuurd worden op voorwaarde dat de regels nauwkeurig gevolgd worden ivm van wal steken, aankomen, gebruik juiste zone…
De lesjes kunnen ook per 2, dan is er tevens de optie om de tweede persoon met onze begeleider op de jetski te laten meevaren, alvast een extra belevenis !
Surfers Paradise Fliteschool Knokke-Heist
Sedert 2022 is er ook een nauwe samenwerking met www.efoilservice.be en beschikken we over een arsenaal aan Fliteboards, het meest gerenommeerde efoil merk ter wereld. www.fliteboard.com Dat wil zeggen dat er naast de beginnersboards ook advanced boards te testen vallen, iets wat nog meer fun oplevert !
Wil je een lesje boeken dan kan dat via ons reservatie systeem. Als de condities dan perfect zijn word je gecontacteerd en zijn we zo goed als zeker dat we kwaliteit kunnen bieden.
Efoilen is makkelijk te leren en na enkele pogingen zweef je over het water. Wij beschikken uiteraard over alles wat nodig is zoals wetsuit, impact jacket en helm. Ook staat onze accommodatie met kleedruimte en douches ter beschikking. Bovendien betekent Efoilen dé perfecte training als je wil leren wingfoilen, kitefoilen, windfoilen of uiteraard ook surffoilen.
Je zal zien: op je foil over het water zweven betekent een betoverende ervaring!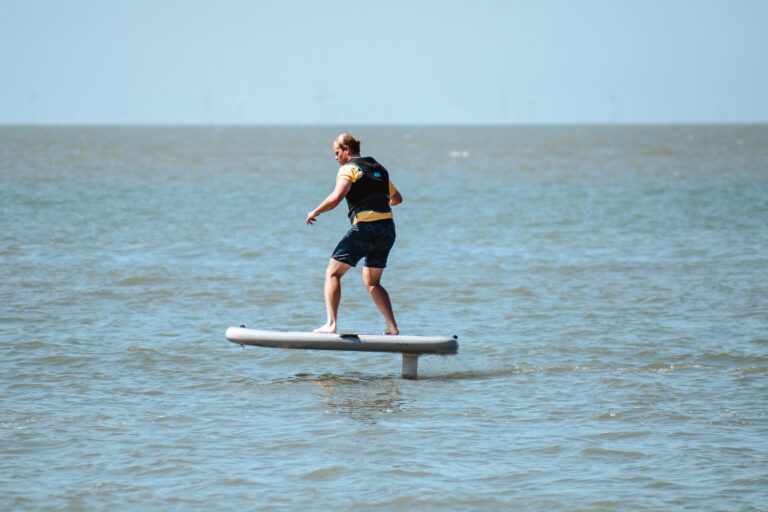 For young and old, and all levels, no previous knowledge required!
The E-foil consists of a surfboard with a 50 cm long motorised foil at the bottom - a kind of aircraft fin as used on surf, kite and windsurf boards - with a screw mounted on it. The board contains a battery that is connected to the propeller via the fin. Depending on body weight, wind strength and desired speed, the battery lasts about 90 minutes. Speeds can be reached up to 45 km per hour. When you stand or lie on the board, you have a remote control in your hand. With this, you can regulate the speed via bluetooth. When the board gets up to speed, the foil gives you an upward thrust, as it were, and the board thus comes loose from the water. Meanwhile, the user stands on the board and floats silently above the water, like on a flying carpet!
Safety first! "Safety first: first of all, there is protection around the propeller so that you cannot come into contact with it. Then a full wetsuit, an impact vest and a helmet are also a must. You can fall into the water at a reasonable speed, from higher than normal. As soon as you release the safety button on the remote control, the propeller stops. You can only restart it once you are safely back on the board. Both the board and the remote control are connected to your leg and arm by an elastic leash.
The best conditions are a relatively flat sea, without much wind or swell. E-foiling is best done out of the surf and breakwaters, and not in the vicinity of other water sports. It is therefore an ideal complement to sports where a lot of wind is a prerequisite. Lakes and canals are, of course, also ideal playgrounds, provided that permission is granted. Water sports enthusiasts who already have foil experience will be gone after a few attempts.
E-Foilen
 You indicate your available days and we will contact you as soon as good conditions and your days coincide. Please mention in the remarks if you want to take lessons together with someone else and if you are not available at certain times of the day. We always give lessons from 9 am to 9 pm, depending on the weather.
Not a fan of motorised craft? Then you can also foil with the wind, cable car or pulled by a jet ski:
Tow-Foiling (part of wing-foiling)
Here, you are pulled by a lever through the cableway or motorboat. This is the ideal way to get acquainted with the foil for the first time. You stand comfortably on a large board and the instructor gives you the right speed to make your first safe flight. At the cableway, you are not influenced by swell or wind, which guarantees success! With the motorboat or jet ski you can cover a lot of distance in flat sea, ideal to get your legs used to the feeling of flying the foil.
Kiteboarding
You are an advanced kiter who no longer needs to look where your kite is in the air, and you have mastered the relaunch from the water? Then you are ready to kiteboard! It takes some getting used to in the beginning but soon you will have mastered this aspect of jet kiting as well. It is best to take an entry-level kiteboard and start with little wind and calm sea. Once you have experienced the silent "flying carpet feeling" you are ready for more...because 360, backloop, jumps, tacks...everything is possible with the foil, even when there is more wind. The advantage is that from 10 knots onwards you can start riding with a much smaller kite than you would normally use, because the foil gives virtually no resistance when floating above the water...magical !
Wingfoiling
If you know how to catch wind with the wing, you are ready for the big stuff and take off on the foilboard. When you have sufficient speed, you get lift and before you know it, with the right balance and foot pressure, you are silently above the water. Wingfoiling gives you a fantastic, free feeling - no harness, no kite high in the air. There's no comparison with windsurfing or kite surfing, wing-foiling is just another sport.
Windfoiling
Wind surfing is done on a windsurfboard specially designed to hold a foil. Experienced windsurfers will quickly get away with it and experience the feeling of floating. Once on the foil, you need almost no wind and you keep floating over the water. Then learn how to jibe, tack, jump, make 360 turns... A new dimension in windsurfing.
Surfing - SUPsurfing
The most difficult but most unlikely member of the foil family. Waves that are normally difficult or impossible to surf become your new playground. You paddle out normally and when you're ready, you paddle for a wave. The speed makes your board float on the foil and then it's a matter of standing up quickly, putting enough pressure on your front foot and keeping the foil under control. Once you are floating, you move forward almost automatically. When the wave is over, you can pump and sail out again until you find a new wave that suits you and you can ride it again. Quite a challenge, but the ultimate feeling as a reward. 
When you mount the right foil under a sup, and you can paddle fast with the waves, you can make long trips, downwind of course, but with an incredible floating experience from wave to wave. If you get stuck, just paddle and you're off again.